A Sum of Parts
New small works on view Nov-Dec, 2016 at Toronto's Carlaw Collective, Mere Gallery. By Appointment. Facebook event here.

Commuter Necessities
I was happy to contribute some drawings to the Artist Newsstand satellite project at the AGO's First Night event, March 2016, with Jess Dobkin and company. More on that project http://www.jessdobkin.com/work/
Feminist Architectures
A satellite exhibition of the Feminist Art Conference (OCADU) 2015 at Artscape Youngplace
180 Shaw Street, Toronto
with ARTIFACTS — Leena Raudvee and Pam Patterson
and writer Dina Georgis.
Panel Discussion Weds, Sept 23 2015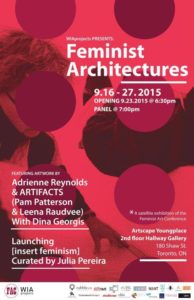 NYC Salon Showcase: A Weekend at the Old Gem
Pleased to take part in this salon exhibition and fundraiser for Arts@Renaissance for St. Nicks Alliance in Williamsburg. The show takes place in the Old Gem, 695 Grand Street, Brooklyn NY.
http://greenpointnews.com/2015/02/18/local-arts-champion-set-to-reassert-itself-with-massive-exhibition/