Art Lot spring exhibition April – June, 2018
My new piece…"How did we get to here from there" will be on view alongside works by Anette Millington and Caleb Nussear at Art Lot in Brooklyn, on view April through mid-June, 2018.
Art Lot is located at Sackett and Columbia Streets in Brooklyn (G/F trains to Carroll St/ B61 bus )
The press release for the exhibition can be found here: inFormingfinal
A Sum of Parts
New small works on view Nov-Dec, 2016 at Toronto's Carlaw Collective, Mere Gallery. By Appointment. Facebook event here.

Feminist Architectures
A satellite exhibition of the Feminist Art Conference (OCADU) 2015 at Artscape Youngplace
180 Shaw Street, Toronto
with ARTIFACTS — Leena Raudvee and Pam Patterson
and writer Dina Georgis.
Panel Discussion Weds, Sept 23 2015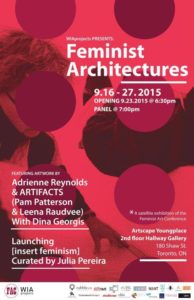 Her History Dilemma
new paper sculptures 
with Erin Treacy
a series of pop-up shows curated by Suzanne Stroebe for
cloyingParlor
Brooklyn,NY
March 2014